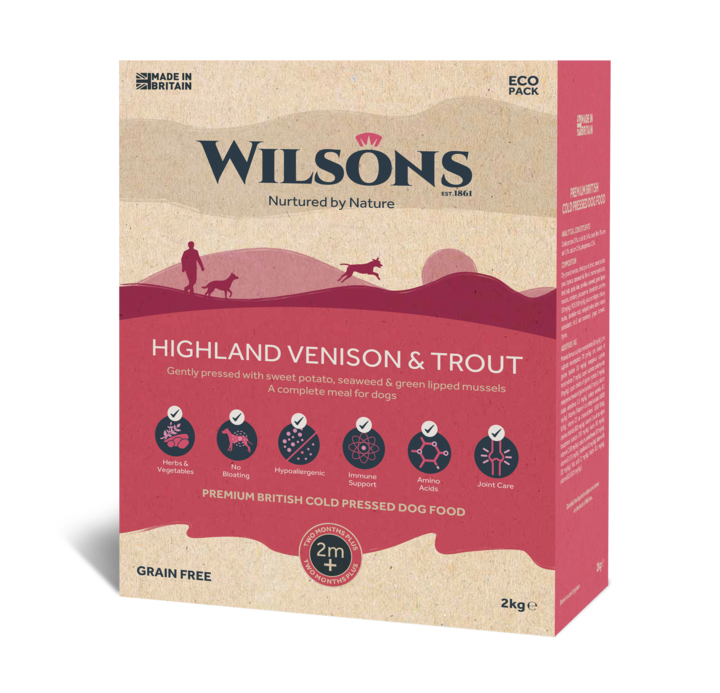 Highland Venison & Trout - Wilsons
2kg | 10kg
Highland Venison & Trout is a complete grain free premium British cold pressed dry dog food and is gently pressed with sweet potato, seaweed and green-lipped mussels in their Scottish factories.

They gently press ingredients at low temperatures to retain nutrients, helping aid digestion and promote all round health. The recipes use only quality ingredients to help improve your dog's skin, coat and immune system. This variety is particularly suitable for young dogs and puppies.

Venison contains vitamin B, zinc and iron, while trout is a great source of protein. Our recipe also contains sweet potato which is high in vitamin A, green-lipped mussels as a natural anti-inflammatory, and seaweed which is rich in antioxidants.
Perfect for treats, snacks, travelling or camping when raw food isn't always an easy option - you can switch from raw to Wilson's Cold Pressed for a few days and back again without any gradual changeover, making this a perfect substitute for your usual raw food when necessary.
2.5% of sales from this product goes to charity via the 'Wilsons to the Rescues' scheme
Analytical Constituents
Crude protein 25%, crude fat 14%, crude fibre 3%, raw ash 11%, calcium 2.5%, phosphorus 1.3%.
Composition
Dry ground venison (16%), dried ground trout (14%), sweet potato, peas, tapioca, rapeseed oil, fish oil (2%), marine hydrolisate, beet pulp, apple, kale, spirulina, seaweed, green lipped mussels, cranberry, glucosamine, chondroitin, carnitine (50 mg/kg), MOS (500 mg/kg), yucca schidigera, chicory, inuline, dandelion root, marigold yellow, lutein, natural antioxidants (vit.E and rosemary), ginger, turmeric, thyme

Additives/kg
Minerals ferrous sulphate monohydrate (80 mg/kg), zinc sulphate monohydrate (70 gm/kg), zinc chelate of glycine hydrate (30 mg/kg), manganous sulphate monohydrate (7 mg/kg), cupric sulphate pentahydrate (5mg/kg), cupric chelate of glycine hydrate (3 mg/kg), manganese chelate of glycine hydrate (3 mg/kg), calcium iodate anhydrous (1.5 mg/kg), sodium selenite (0.1 mg/kg).

Vitamins (Vitamin A as retinyl acetate (18000 IU/Kg), vitamin D3 as cholecalciferol (1500 IU/kg), choline chloride (800 mg/kg), vitamin E as all rac-alpha tocopherol acetate (350 mg/kg), niacin (50 mg/kg), vitamin C (50 mg/kg), calcium pantothenat (30 mg/kg), vitamin B1 (15 mg/kg), riboflavin (15 mg/kg), vitamin B6 (10 mg/kg), folic acid (2 mg/kg), biotin (0.3 mg/kg), vitamin B12 (0.05 mg/kg)).