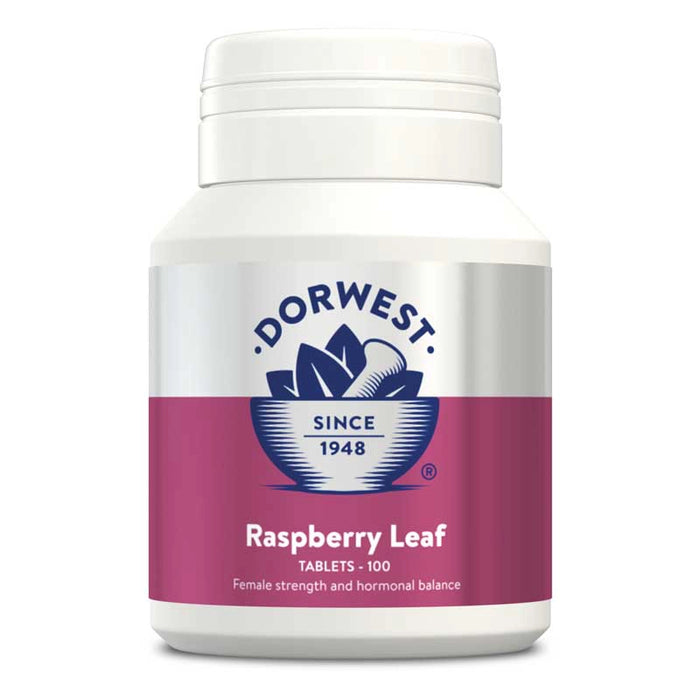 Raspberry Leaf Tablets - Dorwest
Save

Liquid error (snippets/product-badge line 32): Computation results in '-Infinity'

%
100 tablets
A popular birth-aid with breeders, the use of raspberry leaf in pregnancy is documented as far back as the 6th century and is still recommended by health and veterinary professionals today. When used in pregnancy, raspberry leaf helps to tone and maintain the strength of the muscles of the uterus in preparation for birth. It is also known for its hormone balancing properties, and so our tablets are helpful for supporting bitches who experience phantom pregnancies.
How to use Raspberry Leaf Tablets
To help prepare your bitch for whelping, it is recommend to start using Raspberry Leaf Tablets three weeks after mating and continue until one week after whelping.
To help support bitches who experience phantom pregnancies, use from the first sign of her coming into season and continue for 12 weeks (which is when she would have whelped had she been mated). Ensure you continue in this way for every season, unless she is mated. While Dorwest recommend using Raspberry Leaf Tablets from the first day of your dog's season, they can still be useful if your bitch is already showing signs of a phantom pregnancy.
Raspberry leaf contains:
Fragarine - tones the uterus
Iron - important for normal red blood cells
Tannins - helps normal clotting and tones and maintains strength of the reproductive organs
Vitamins A, C, B, E, calcium and magnesium - all important for pregnancy, magnesium particularly helps to maintain strength of the uterine muscles. Vitamin B helps to regulate hormones
Administration: During pregnancy: 1 tablet per 10kgs bodyweight daily from third week of gestation until one week after whelping or kittening. For support during phantom pregnancy: 2 tablets per 10kgs bodyweight daily from the start of the season for 12 weeks.
Can be used during pregnancy?: Yes
Can be used during lactation?: Yes
Interactions: Can be given in conjunction with other medication