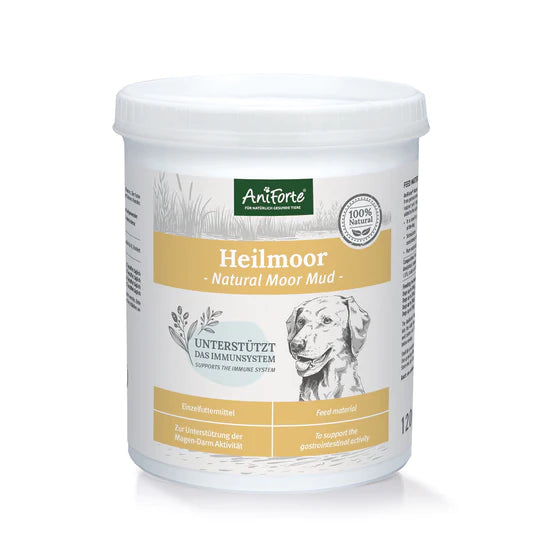 Natural Moor Mud - Aniforte
Save

Liquid error (snippets/product-badge line 32): Computation results in '-Infinity'

%
300g | 750g
Benefits of Moor Mud:
✔ Supports your dog's or cat's gastrointestinal activity
✔ Binds and flushes out harmful substances in the intestines
✔ Stimulates the appetite
✔ Optimises the consistency of faeces
✔ Dogs approve: has a very high level of acceptance
How does Natural Moor Mud work?
Moor mud is one of the oldest products in nature and a traditional household remedy. It has been used for generations for internal and external application in humans and animals. Through a natural biochemical process, organic mass is created over thousands of years, which contains a unique combination of valuable ingredients.
In particular, the natural humic and fulvic acids, which are present in high concentrations in the moor, are said to have digestive and immune-boosting properties. They support gastrointestinal activity by binding and flushing out harmful substances in the intestine. In addition, humic acids protect the intestinal mucosa and have appetite-stimulating properties. Humic acids can also be used to support the digestive tract in animals.
AniForte® Natural Moor Mud is a natural product from the oldest moor spa in Bavaria. Processed according to the highest quality standards, it can contribute to the well-being of your four-legged friend. Due to its earthy consistency and its natural aroma, it's being very well accepted by dogs. Customers also report very good tolerance, especially with sensitive pets.
Composition: Pure natural moor mud
Analytical Components: Crude protein 1.5%, crude fibre 1.0%, crude ash 0.6%, crude fat 0.1%, moisture 89%
Feeding Recommendation:
Dogs up to 10 kg: 2 teaspoons daily
Dogs up to 20 kg: 3 teaspoons daily
Dogs up to 30 kg: 4 teaspoons daily
Dogs from 35 kg: 5 teaspoons daily
Cats 1/2 teaspoon daily
This product can easily be mixed with the daily feed. Please use clean teaspoons to take out the product. Before re-sealing, remove accumulated condensation water with a cloth to prevent mould.
IMPORTANT: Stir well before use. As this is a pure natural moor product, it may contain natural foreign bodies such as small pieces of wood or leaves.
Note: Store in a cool, dry and light-protected place (refrigerator is best), and it will keep for about 24 months after opening.