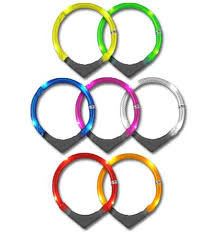 FINAL SALE STOCK. All excellent working order but boxes may be slightly damaged. Sold as seen.
LEUCHTIE is great for any dog. And for dogs who like to play and run off the lead in the dark, in the garden, in fields, or at the beach, you'll be particularly glad of the LEUCHTIE.
You'll always know where your dog is if he wears a LEUCHTIE light collar. The LEUCHTIE is also great when your dog is on the lead, as she will be seen clearly by motorists – keeping her safe when walking in town or on country roads.
The LEUCHTIE high visibility collar is ideal for dogs with long coats, thanks to it's extra bright Superflux LEDs. - extra bright solid light, no irritating blinking - Mulitple Superflux LEDs make your dog visible from all angles - ease of use – just slip over the dog's head - automatic on/off motion sensor. No fiddly switches to deal with. - long lasting in any weather - 100% waterproof - easy to clean – just wash with water - low energy consumption - complies with all EU safety regulations for electronic equipment - uses ordinary AAA batteries
Your LEUCHTIE is the correct size when you're able to slip the closed ring over your dog's head. Use a tape measure or piece of string to create a loop that can slip comfortably over the head. Alternatively adjust your dog's normal collar so that you can just slip it over the dogs head and remove it again, without it being uncomfortable for the dog. ​ Use the measurement or measure the inner circumference of the collar or the total length of the piece of string/wool.
The Leuchtie you need is the size closest to this measurement. If in-between sizes, select the larger Leuchtie.