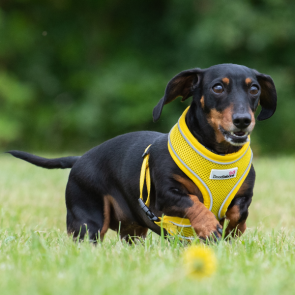 Doodlebone Air Mesh Harness
Perfect for anyone with an excitable dog that can't wait to go walkies, the original Doodlebone® Airmesh harness is perfect. This padded, super soft dog harness is designed to completely eradicate the strain on a dog's neck that can cause injury when they pull on a lead and collar. Highly recommended for smaller dogs who are at increased risk of complications arising from neck injuries.
Made with breathable airmesh and nylon hemming, the lead connector is double stitched to ensure that this soft dog harness is durable as well as comfortable. With a range of vivid colours, Doodlebone® dogs will look well dressed whether they prefer to spend their time out on the high street or in a muddy puddle!